Events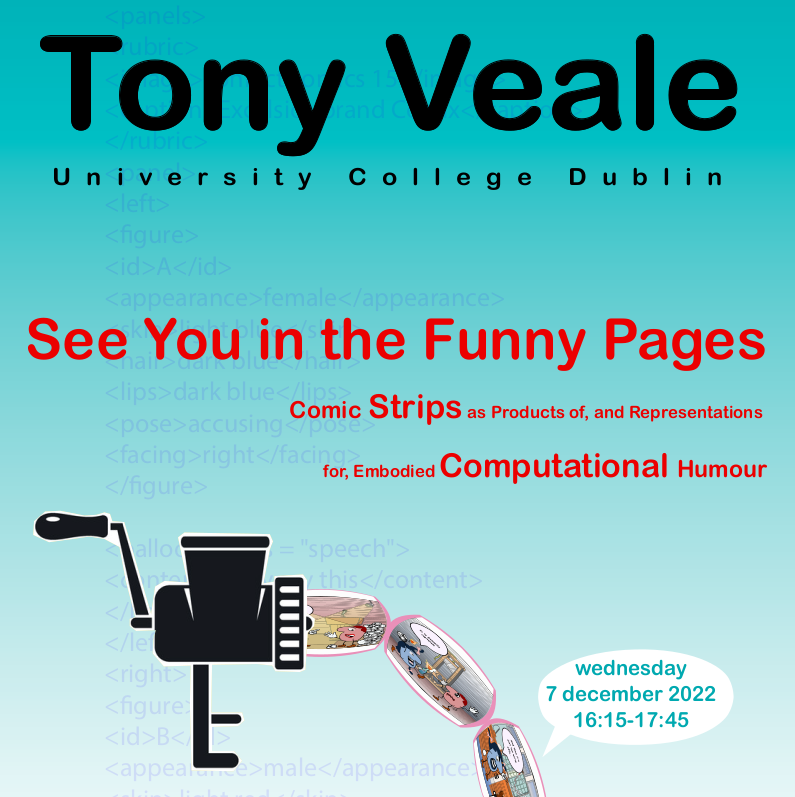 Both as part of the SNSF-PRIMA project « Le Rire des vers / Mapping the Comic Verse » and as part of the lecture series « Schmerz und Schmunzeln: Die Verkörperung des Lachens », Anne-Sophie Bories and Jérôme Laubner will be hosting a lecture by the computational linguist Tony Veale (University College Dublin):
See You In The Funny Pages: Comic Strips as Products of, and Representations for, Embodied Computational Humour
Wednesday, 7.12.2022, 16:15-17:45
Kollegienhaus, Hörsaal 115
Petersplatz 1, Basel
Tony Veale is an associate professor in the School of Computer Science at University College Dublin (UCD), Ireland. He has been a researcher in the areas of Computational Linguistics, Cognitive Science, Cognitive Linguistics and Artificial Intelligence since 1988, both in industry and in academia. He obtained a B.Sc (hons) in Computer Science from University College Cork (UCC) in 1988, and an M.Sc in Computer Science in 1990, before joining Hitachi Dublin Laboratory in 1990. He received his Ph.D in Computer Science from Trinity College, Dublin in 1996. He has divided his career between academia and industry. In the latter, he has developed text-understanding and machine translation systems for Hitachi (in particular, the translation of English into American Sign language, ASL), as well as natural-language-processing tools for the CYC project in Cycorp at Austin, Texas, and patented web-based question-answering technology for Intelliseek (Cincinnati, Ohio) and Coreintellect (Dallas, Texas), where he held the position of Chief Scientist. During his tenure on the CYC project in Cycorp inc. he developed a model of analogical reasoning for CYC and contributed to the DARPA-funded High-Performance-Knowledge-Bases (HPKB) and Rapid-Knowledge-Formation (RKF) projects. He was, from 2002-2007, the academic coordinator for UCD's unique international degree programme in Software Engineering, which UCD delivers in Shanghai at Fudan university; he continues to deliver courses on this degree. He is the author of Exploding The Creativity Myth: The Computational Foundations of Linguistic Creativity (Bloomsbury Academic, 2012) and a founder member of the international Association for Computational Creativity (ACC). He organized the ACC's annual conference, The International Conference on Computational Creativity (ICCC) in UCD in May 2012.
Abstract: As the name implies, a "comic" strip is a form of sequential art that emphasizes the comic potential of a narrative, either explicitly or implicitly. The comic strips that one finds on the "funny pages" of modern newspapers tend toward the former, while even serious narratives can be made more embodied, engaging and humorous through the use of visual metaphors and exaggerated depictions of actions and emotions. This project concerns itself with the automated generation of comic strips for different kinds of narrative: for narratives that are themselves generated by a machine, using existing approaches to story-generation, or for the arguments that are exchanged in online debates, such as the fractious debates over vaccines and global warming on Twitter. In each case the original narrative is a starting point for humour production. A two-stage process is used to generate the final, fully-rendered comic strips in each case. In the first stage, the narrative is translated into an intermediate comics representation (using an XML markup schema) that is hierarchically structured, wholly symbolic, and amenable to further logical manipulation; in the second, this representation is translated into a visual sequence of panels, embodied actions and character poses, apt visual backgrounds, and speech/thought balloons by a rendering engine. I will show how the intermediate representation is not just suited to comics production, but suited to the application of different kinds of logical mechanisms to foster the creation of a humorous effect.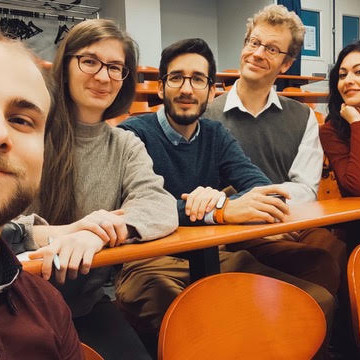 Archives sonores de poésie 2, Dans la bibliothèque des voix
On 17-19 November 2022, we took part in the conference « Archives sonores de poésie 2, Dans la bibliothèque des voix » in Paris, organised By Michel Murat, Abigail Lang and Céline Pardo at Sorbonne University. We delivered two papers:
Lara Nugues, Nils Couturier, « Vers écrit, vers chanté, vers inaudible »
Anne-Sophie Bories, Nils Couturier, « Raymond Queneau : métrique et prosodie »
We were happy to present our work, hear about some exciting projects, and of course meet with old and new faces!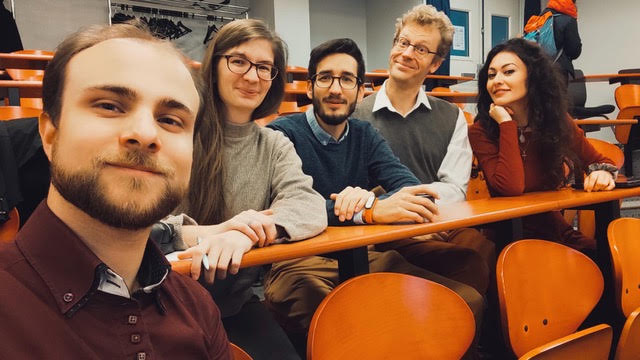 Valerio Soldà, Lara Nugues, Nils Couturier, Numa Vittoz, Valentina Colonna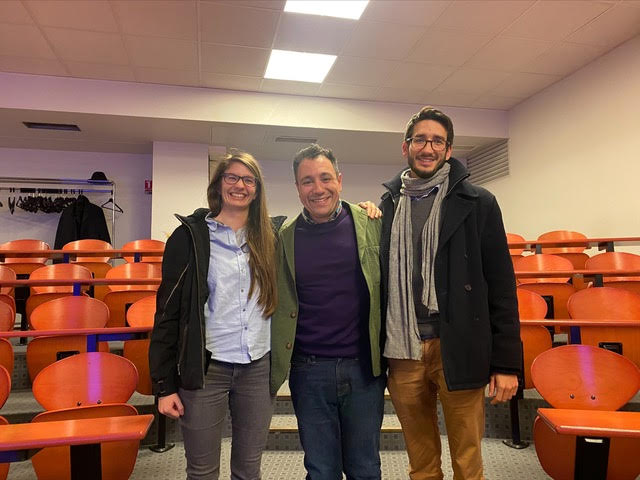 Lara Nugues, Chris Mustazza, Nils Couturier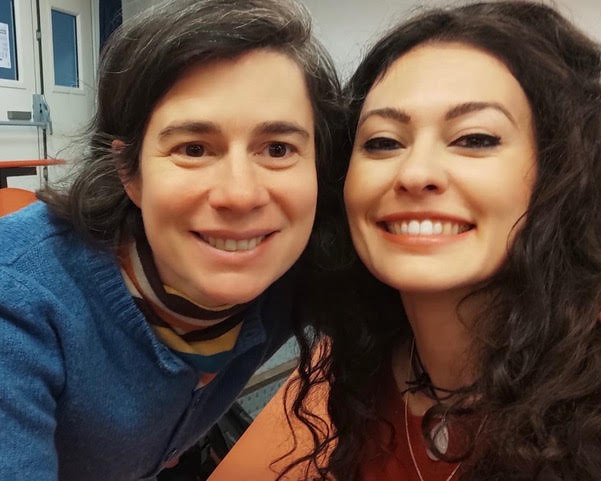 Anne-Sophie Bories, Valentina Colonna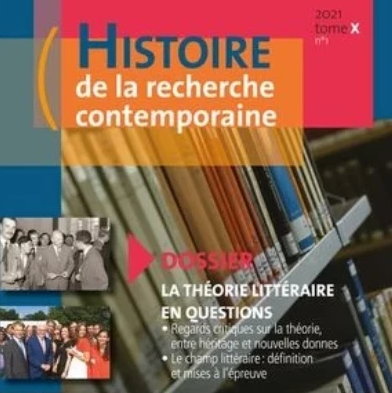 Discussion on the issue of the journal Histoire de la Recherche contemporaine dedicated to literary theory
25/10/2022
Librairie Tschann, 125 boulevard du Montparnasse (métro Vavin), Paris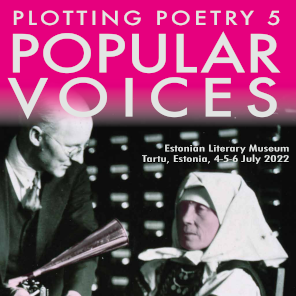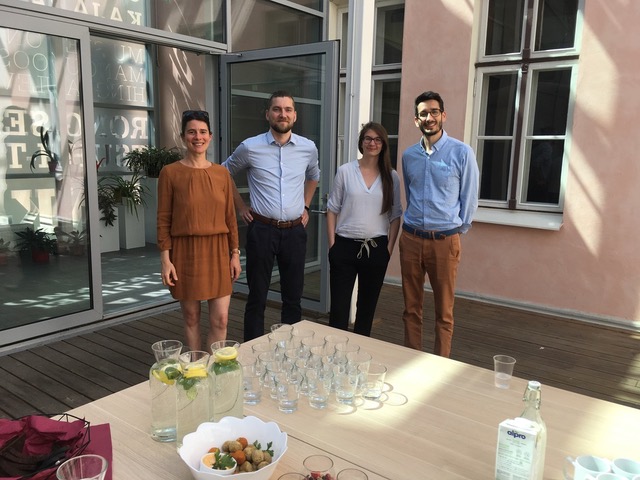 The COMIC VERSE team was in Tartu, Estonia, for Plotting Poetry 5 - Popular Voices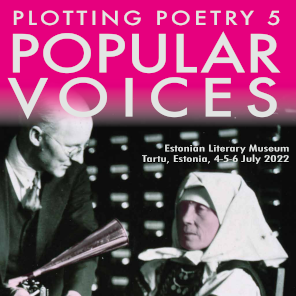 Plotting Poetry 5 conference
4-6/7/2022
Tartu, Estonia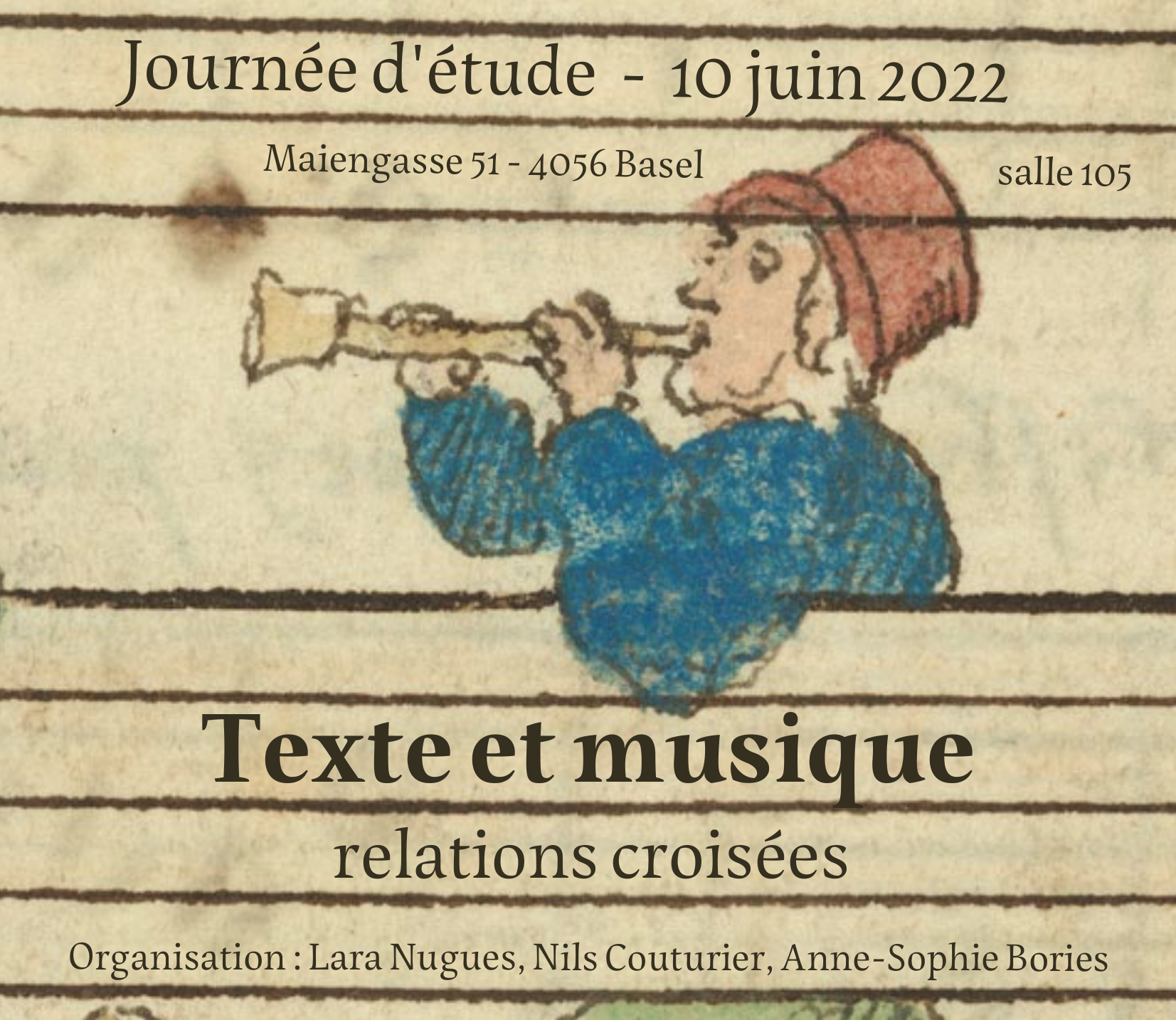 Texte et musique
Study day - 10 June 2022
Maiengasse 51 - 4056 Basel